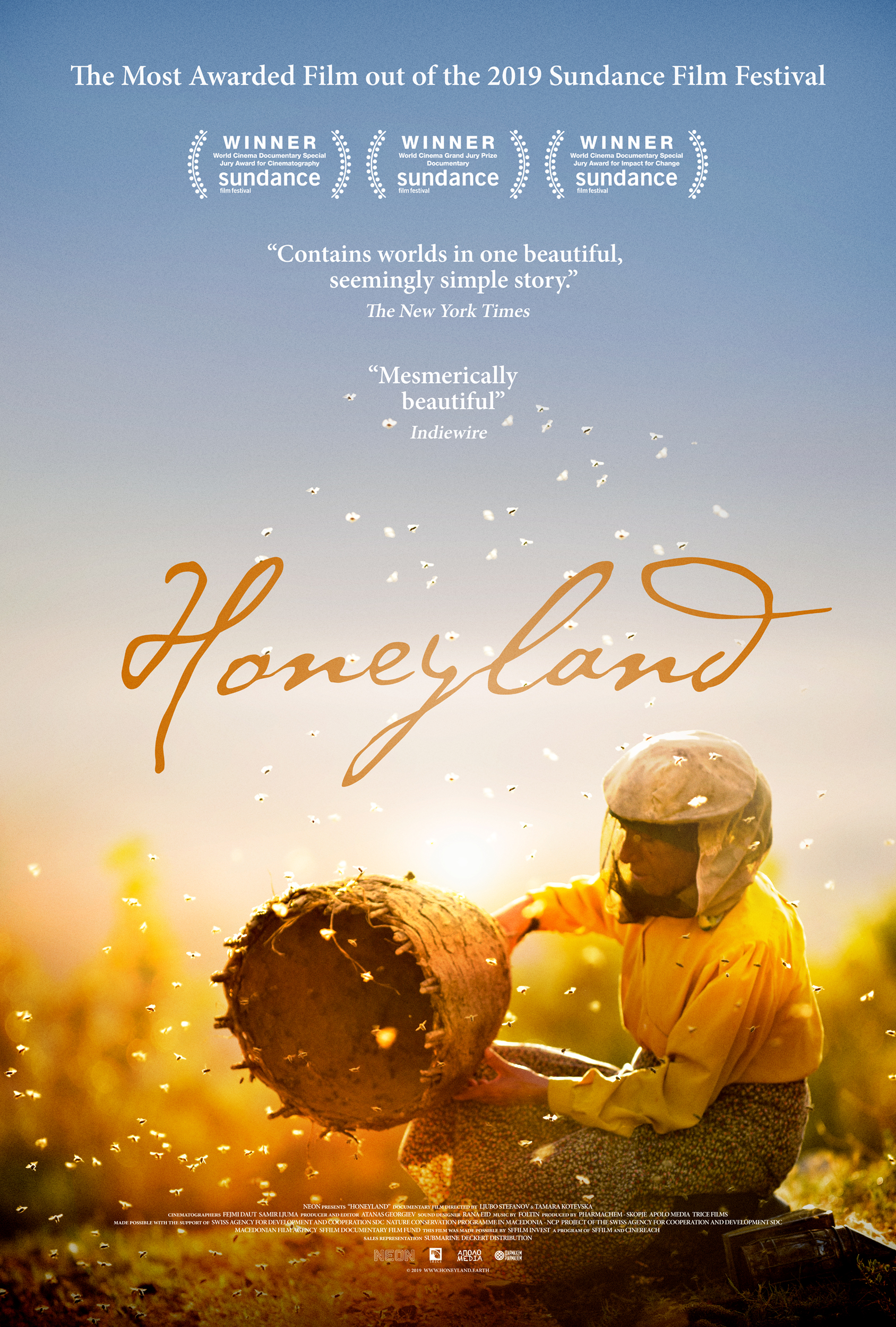 W A T C H:
HONEYLAND


Honeyland, a new documentary now in distribution via NEON, is fresh off the film festival circuit, and was the most-awarded film at Sundance where it received the World Cinema Grand Jury Prize: Documentary, the World Cinema Documentary Special Jury Award for Cinematography, and the World Cinema Dramatic Special Jury Award for Originality. This film follows a woman who is the last of Macedonia's nomadic beekeepers. Her ancient methods of tending to the land, "only ever taking half," and living in a hut made of wood and mud, while she cares for her ailing mother are put in jeopardy when a new family with six children set up shop next to her home. While she welcomes the break from her isolation, other issues arise.

This debut feature from documentarians Ljubo Stefanov and Tamara Kotevska was shot over three years by a skeleton crew who committed to an intimate collaboration with their subject. That intimacy is visually evident throughout the film. Also central to Honeyland are man's detrimental environmental impacts on nature, and the film serves as a kind of elegy for sustainability amidst the ecologically destructive forces of capitalism. Honeyland opens across the U.S. on July 26. Stay tuned for showtimes in Seattle (most likely Film Forum or Siff).


T A S T E:


FURLANI AT LEFT BANK'S NEW OUTPOST


Matteo Furlani's vineyard, which consists of small precariously-placed parcels, is situated high in the Dolomite mountains. A fourth generation winemaker, Furlani's wines pay tribute to his family's heritage and techniques. Furlani himself studied agronomy and learned winemaking from his elders, but manages to be even more rigorous with his his approach to biodynamic winemaking.
We first tasted Furlani at Left Bank, a little wine bar down at South Park, but Juicebox Cafe is now carrying a selection of wines curated by Left Bank during its cafe hours, and will be moonlighting as Left Bank on Monday nights starting July 15. Come sample Furlani's delicious and lightly sparkling bright white, the Antico Frizzante, that was fermented in concrete tanks and vinified with frozen grape must at Left Bank's Capitol Hill outpost.
L I S T E N:


BLOCK PARTY

We are right around the corner from one of Seattle's biggest outdoor music festivals, Block Party, happening July 19-21. Prepare for the neighborhood to fill to the brim as big acts grace our city stages this year. LIZZO, the classical violinist-turned-rapper prodigy who has some incredibly catchy hits, is headlining the main stage on Saturday night. Tickets to see her are already 90 percent sold out, so you may have to act quickly. Check out this compelling NPR interview with Lizzo here where she shares her thoughts on the joy in writing her first body-positive song, finding self-love, and feminism.